Welcome To Denver Cat Hospital
Denver Cat Hospital is a feline-exclusive veterinary hospital located in Denver, CO.
Your Pets. Your Family. Our Priority.
Denver Cat Hospital is a feline-exclusive veterinary hospital located in Denver, CO.
We Are A Full-Service Cat Veterinary Hospital
Call us now to find out more information about how Denver Cat Hospital can serve the needs of you and your feline companion.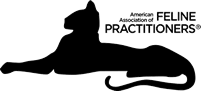 We Are AAFP-Certified
The American Association of Feline Practitioners (AAFP) supports its members in improving the health and well-being of cats through high standards of practice, continuing education, and evidence-based medicine.
The Denver Cat Difference
Your Veterinarian For Cats in Denver, CO
Here at Denver Cat Hospital, one of the things that set us apart from other animal hospitals is that we only treat cats in our facility. There will be no dogs making your cat anxious or scared. And since we only handle cats, our facility is designed to be cat-friendly and ensure your cats are at ease with us. We know how to handle both friendly cats and cats who may be anxious or timid with strangers. We will love your cats like they are ours and provide them with the best possible care and treatment.
Comprehensive Veterinary Services for all felines
We are committed to promoting responsible cat ownership, preventative health care, and health-related educational opportunities for our clients. Denver Cat Hospital strives to offer excellence in veterinary care to Denver, CO, and surrounding areas.
The Team of Experienced Feline Health Professionals
Many people consider their feline friends to be part of the family. Here at Denver Cat Hospital, we would have to agree with them. We are happy to be a full-service cat veterinary clinic that provides top-of-the-line services to those in Denver and the surrounding areas. Need a routine checkup? Dealing with an emergency? We have a team of experienced veterinary professionals who will work tirelessly for the needs of your cats.
We Love Our Clients And Their Furry Family
Very professional and thorough exam of my pet's condition. My pet was treated quite effectively and his condition cured in just a few days. The office does a great job alerting you via text/email about appointments and billing. Definitely recommend. A+.
Ken Krause
THE! BEST! My elderly cat absolutely hates the vet's office, but this was easily the best and least stressful visit he's ever had! Everyone was very accommodating and did everything they could to keep Ozy calm while still thoroughly checking everything out on him. I will only ever bring my cats here from now on!
Evan Lay